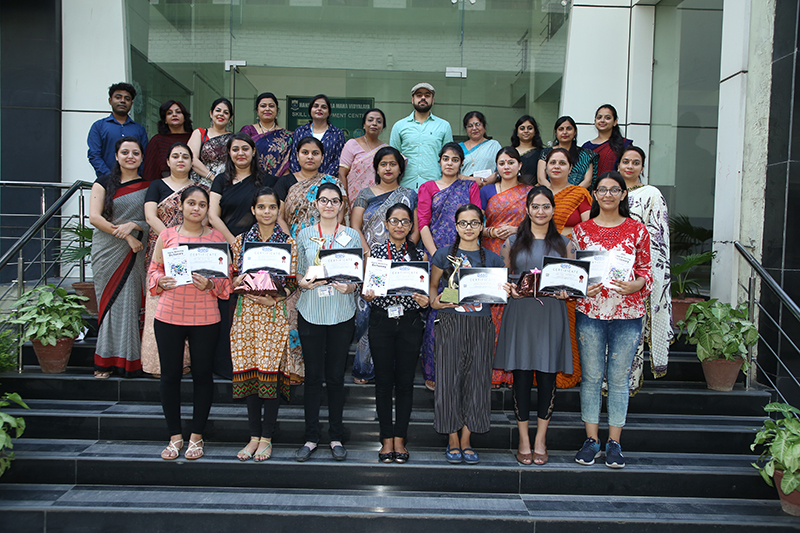 Entrepreneurship, Leadership & Startup Summit – 2019 concluded at HMV
Entrepreneurship, Leadership & Startup Summit – 2019 concluded at HMV
The three day "Entrepreneurship, Leadership and Startup Summit, 2019" organized by Commerce Club of PG Department of Commerce and Management in collaboration with Digital Marketing Companies ISOLS Group, concluded with valedictory session. Valedictory address was given by Mrs. Damanpreet Kaur Bedi, Keto Diet specialist. In her address she encouraged the participants to start their entrepreneurial career and applauded the ideas given by students for startup in the earlier session. On this occasion, Principal Prof. Dr. (Mrs.) Ajay Sareen honoured the resource person of the Summit. She said that along with academic qualification there is need to have motivation and support to build career. She said when one target is achieved it will lead to arising of new target; similarly one new startup will lead to a flourished business. Vote of thanks was given by Dr. Mrs. Kanwaldeep Kaur, Dean Academics, Head, PG Department of Commerce & Management & Overall Incharge of the event. She said that this summit is going to bring a new change in the life of participants.
On the day, total 18 startups were discussed by the students out of which 6 startups were offered to be incubated by Mr. Ujjwal Chugh, Founder & CEO, ISOLS Group, The awards were given as very smart idea of "Namrata-Creation to Namrata of B.Com. Sem-III very noble idea of "Animal Feed System" to Simran Kakkar, PGDFS and "3D Model Painting" to Sejal, B.Com Semester-I potential ideas of "Repairhub.com" to Harmehak of BBA Sem III, "Sanat : Xpressdilse", to Simranjeet BBA Sem.III and Art Work to Yukti, B.Com Sem III. The Award of budding leader of the department was given to Neha of BBA Sem V. Certificated were also given to all the participants of the summit.
Earlier on the first day of Summit the concept of entrepreneurship, its traits and how these traits and developed was discussed along with various activities to cultivate the spirit for entrepreneurship among the students by Mr. Ujjwal Chugh.
On the second day, Mr. Sagar, president of Digital Marketing, ISOLS group explained the students the power of digital marketing, creation of facebook and instagram page, hash tags, audience targeting, promotion techniques and search engine optimisation.
On day three of the summit, real time startup stories were discussed. Mrs. Damanpreet Kaur, Keto diet specialist told how she started her journey from being a troublesome mother facing problem of epilepsy of her child to the inventor of veg keto diet specialised. She told that her diet is recommended by Dr. Manjali Tripathi, Neuro Deptt, ALLMS Delhi. She also said that her diet is very helpful in diseases like hypertension, diabetes etc.
Second resource person Mr. Surinder Creative Head, ISOLS group said that how from an unprivileged section of society with no resources and illiterate parents he chooses his interest of photography. His hard work turned him into the creative head of ISOLS Group. Third resource person, Ms. Karishma, Asst. Prof. in Commerce of HMV, told that her passion for baking cakes let her to the startup of 'Cake rush" business venture. She told how she managed teaching profession along with her passion and encouraged the students to pursue their interest also along with their studies.
Mrs. Binoo Gupta, Coordinator of the event told that we should accept the reality that there are going to be hurdles when we choose an entrepreneurial path but every hurdle could be converted into an opportunity with conviction and determination. Stage conduct was done by Ms. Karishma and Mrs. Anchal of Commerce Department, Shweta Kapoor of B.Com Sem V and Harmehakpreet of BBA Sem III. On this occasion Mrs. Meenu Kundra, Mrs. Kajal Puri, Mrs. Savita Mahendru. Mrs. Shefali, Dr. Meenakshi Duggal, Mrs. Yuvika, Mrs. Ritu Bahri, Mrs. Bhawna, Ms. Anjali, Mrs. Kanika Sharma, Mrs. Aashima, Ms. Priyanka, Mrs. Subha, Ms. Sonal, Mrs. Rishika, Mr. Arvind and Mr. Prince were also present.
Principal.
Date : 08/08/2019